N E W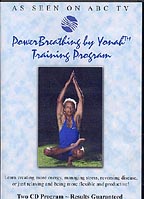 Results Guaranteed !
PowerBreathing by Yonah™ Training Program
As seen on ABC TV
(2 Audio CDs)
Learn to relax, increase your energy and manage your stress to create total well-being. PowerBreathing by Yonah™ techniques are based on gentle yoga (a form of hatha yoga), and proper breathing (known as "pranayama", a form of natural and alternative healing). With properly controlled breathing and alternative health therapy based on the focus of stretching, relaxation, and concentration, feeling better can be yours by using your own natural healing, life force/prana/chi. Wouldn't that be great?

| | |
| --- | --- |
| Disk 1: | PowerBreathing Introduction |
| | Guided Meditation |
| | PowerBreathing Technique |
| Disk 2: | Anchoring PowerBreathing |
| | Relaxation |
| | Morning Practice |
$69.95 All prices in U.S. dollars.

Shipping & Handling Continental United States $5.50, add $1.50 for each additional tape

Shipping & Handling Outside Continental United States $15.00, add $5.00 for each additional tape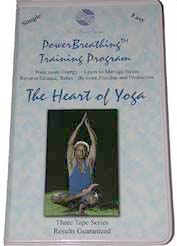 PowerBreathing™ Techniques
(audio tape: 3 35-minute routines)
$69.95
All prices in U.S. dollars.
Shipping & Handling Continental United States (same as video) $4.50, add $1.50 for each additional tape
Shipping & Handling Outside Continental United States (same as video) $15.00, add $5.00 for each additional tape
N E W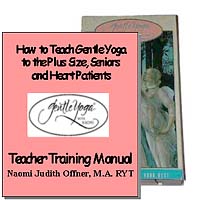 Gentle Yoga With Naomi® Teacher Training Manual & BONUS Gentle Yoga with Naomi® video

Start new classes or expand your existing ones by reaching a relatively untapped, specialized market. Created specifically to make yoga available to all sizes, ages, and fitness levels, this manual will guide you step-by-step with clear photographs showing over 100 poses, easy-to-follow scripts including benefits of poses, and a full set of specific sequenced routines.

Click here to view Table of Contents
Click here to view Sample Scripts with Photographs 1
Click here to view Sample Scripts with Photographs 2
$97.00 All prices in U.S. dollars.
Shipping & Handling Continental United States per manual and video $10.00, add
$4.00 for each additional manual